---
The #1 Provider For Business Phone Service!
More business in our region choose LocalTel as their phone service provider than all other providers, combined! To be profitable a business needs telecommunication that are affordable and reliable from a provider that has fast, responsive support and great customer service, that's why they choose LocalTel!
In 1996 the FCC ruling made local Telcos possible and in 2002 LocalTel (previously known as Computerland) became a CLec phone company and offered our first dial tone, we have been growing and serving our region ever since. We are a local company that offers technology that is equal to and in many cases better than the national carriers offer, with us businesses get "World Class Technology, With Home Town Service"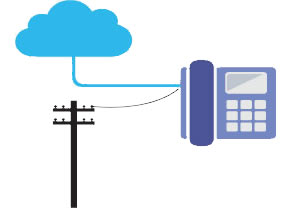 ---
Traditional Lines (POTS)
Well established, reliable system
Excellent call / voice clarity
Works even when power is out
Does not require an internet connection
Can be used as a backup to VoIP
Access to 911 emergency service
Traditional "Plain Old Telephone Service" (POTS) is like a hammer; it's not fancy, doesn't have any "bells or whistles" but it is rock solid and reliable! Newer VoIP technology offers many more features and capabilities, but POTS lines still have their place. LocalTel recommends businesses always have at least one POTS line even if the rest of their system uses VoIP lines. Talk to your LocalTel representative to find the best solution for your business!
---
Contact | Call 509-888-8888
VoIP - Voice Over Internet
Get your Voice-mail in your email
Forward calls to your cell phone
Caller ID, Call Waiting, or send directly to Voice-mail
Many other phone features available
Phone switch located in Wenatchee, not across the country
Delivered across our award winning Internet service
VoIP truly is the next generation of telecommunications! Over the past few years VoIP technology and reliability has improved immensely, making it a solid viable tool for businesses of any size. This new advanced technology, when delivered over LocalTel's industry leading network adds up to the right choice for businesses, hospitals, schools, and government agencies throughout NCW! See what the savings and power of VoIP can do for your business. Call today!
Contact | Call 509-888-8888
---